Entomologist Inspections
Using SAPCA Registered Inspectors, we inspect all visible timbers for any wood destroying insects. SAPCA, or the South African Pest Control Association, has been placed to regulate and ensure certain industry standards that we strive to measure up to. After a stringent written test, inspectors are tested in a practical setting. Only after proving their competence are they allowed on SAPCA's list of approved Inspectors. This list is freely available on their Web Site at:
SAPCA Entomologist Inspector List (Click here for the list)
Subterranean Termites (5 year guarantee)
Using a tank and a petrol pump delivery system, we inject the termicide into 10mm holes we've drilled into your foundations and cavities. We close the holes, leaving as little evidence of treatment afterwards as possible. We also eradicate termite nests and offer pre-construction soil treatments.
Woodborer Fumigation Services
We use tarpaulins to cover the affected buildings, after which we introduce Methyl Bromide gas at either 48g/cubic meter, or in the case of Lyctus, 96g/cubic meter. This is an effective way to treat for woodborer, and we are equipped to handle almost any building when fumigating your home or office. Please beware of false claims of "technologically Advanced" liquid sprays replacing gas fumigations. This is a HOAX! And make sure they are using Methyl Bromide (the only pesticide registered in South Africa for use against woodborer) and not anything else (such as Phostoxin which is illegal if used for woodborer treatments).
Heat treatments are also effective alternatives and can be done if requested.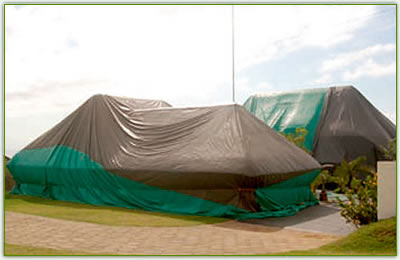 An example of a tent fumigation of a bed and breakfast