Microbial Fogging Services
We achieve 99.99% disinfection using specialized cold fogging machines (see below for description).
What is Microbial Fogging?
Our treatment is SABS , and has been registered for use in Microbial Fogging. It can be used in the treatment of:
| | | | | | |
| --- | --- | --- | --- | --- | --- |
| Viruses | Bacteria | Dust Mites | Mildew | Fungi | Moulds |
The process of anti-microbial misting involves the use of a high level disinfectant in an aerosol state to create a mist that permeates an entire facility and covers every cubic centimeter of exposed surface area. It penetrates even the hardest to reach places places where microbes hide and multiply. When cleaning a facility, this often excludes every nook and cranny. That's what makes anti-microbial misting so effective - it kills germs in places where manual sanitation processes can't go. It's a form of germicidal shock treatment that bonds to virtually everything - killing 99.9% of all bacteria that cause illness and odours. It solves odour problems, not just masking them. ODOUR IS OFTEN A BY-PRODUCT OF THE DECOMPOSITION of organic (living) matter. When living cells die, they attract bacteria, which break down the dead tissue so it can be "recycled." This natural process, known as decomposition, produces unpleasant smelling gases as an interim by-product. This anti-microbial process quickly reacts with odour-causing molecules, converting them into inoffensive end products.
Quadex is a new and unique cocktail of chemicals. It is a multi-acting high level disinfectant that provides active protection against pathogenic resistance.
Our fog utilizes an Amine/Guanide derivative, and is widely used in aqueous personal products such as eye drops, lotions and creams. The antiseptics belong to the biguanide group, which are cationic substances well known for their effective action against microbial infection. The carrier is mainly water (5% alcohol). It kills by damaging cell membranes and then inactivating critical enzymes. The fog is organic, and relative to other disinfectants, poses a minimal health and environmental hazard.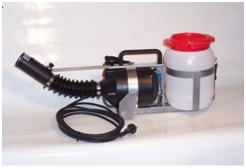 Our microbial fog has been tested and registered according to SABS standards. It eliminates the targeted pathogens, and prevents build up afterwards for at least 30 days, due to its residual effect. It is non-toxic, non-corrosive, non-caustic. non-staining, non-carcinogenic and non-acidic. It can actually be sprayed over cutlery, plastic ware, and even food, without causing harm or injury.
There is no need for evacuation as there are no harmful effects on warm blooded mammals. Microbial fogging is employed in hospitals, schools, crches, offices, homes, factories, and even in airlines to prevent spread of pathogens to other countries.
Treatment carries a 30 day residual. So if youre moving into a new home and dont want to catch or be infected with whatever pathogens are present, have your home fogged prior to moving in.
If you seem to be getting sick constantly, with no explanation, you may have sick building syndrome.
Its an excellent measure to prevent children from picking up and spreading illnesses at schools/crches and hostels.
Call us at 039 695 2764/695 0879 or 083 780 1913 (Edwin) for a free quote and evaluation.
Servicing :
The Lower South Coast (Umkomaas, Scottburgh, Hibberdene, Port Shepstone, Shelly Beach, Margate, Port Edward, Transkei and up to Kokstad and Matatiele.

Zululand (Empangeni, Richards Bay, Pongola, St. Lucia, Hluhluwe, Esikhawini, Melmoth, Ulundi, Eshowe, Nongoma, Mandini, Mtubatuba, Mmtunzini)
| | |
| --- | --- |
| Lower South Coast : | Zululand : |
| | |
| Tel - (039) 695 0879 or 6952764 | Tel - (035) 787 0333 |
| Cell - 083 780 1913 | Cell - 079 714 4673 |
| 4 Dennis Circle Umtentweni | Empangeni |